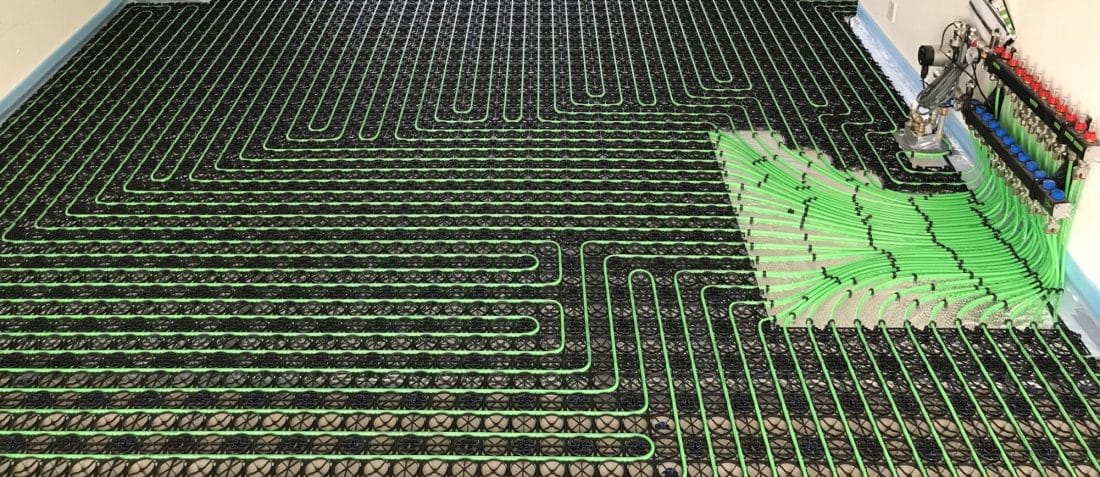 Why choose underfloor heating?
A major advantage of underfloor heating is the low energy costs. This makes it possible to maintain a pleasant room temperature without high heating costs. The system works at a low water temperature of about 35°C. Heating at a low water temperature therefore requires much less energy than radiators or convectors, which require a higher water temperature. Heating in the floor works with radiant heat via heating pipes under the screed. These heating pipes are laid at a fixed distance from each other over the entire space. This system is extremely suitable for use on a heat pump. An additional advantage of this is that cooling is also possible during a warm period.
Compofloor offers two lightweight underfloor heating systems:
Underfloor heating SpeeTile
For all floating, glued and cast floors (levelling on the decking supplied by us is almost always necessary, always be advised by the supplier)
Suitable as main heating;
Very low construction height of 15 millimeters;
Wet system with leveling screed. The floor can be walked on after four hours;
Apply the finishing floor after ten days (depending on the finishing floor);
Economical control unit with A-labelled pump and flow meters.
Underfloor heating SpeeTherm including Jumpax Basic
Suitable for floors such as laminate, click PVC and glue PVC. Leveling on the Jumpax Basic is sometimes still necessary (Always get advice from the supplier)
Suitable as main heating;
Low temperature underfloor heating;
Very low installation height of 23 millimetres;
Fast response time to your heat demand;
Dry construction system, can be used immediately after installation;
Tube centre-to-centre distance of 10 centimeters;
Economical control unit with A-labelled pump and flow meters;
Including the delivery and installation of Heatfoil and Jumpax Basic.
Heat pump ready (made suitable for low temperature floor heating and cooling)
underfloor heating; costs
Our underfloor heating specialists are happy to advise you to make the right choice based on your wishes. They can be reached at: 085-0718888. You can also request a quote directly via the link below. Would you like to know in advance what to expect? Then you can also use our product configurator fill.