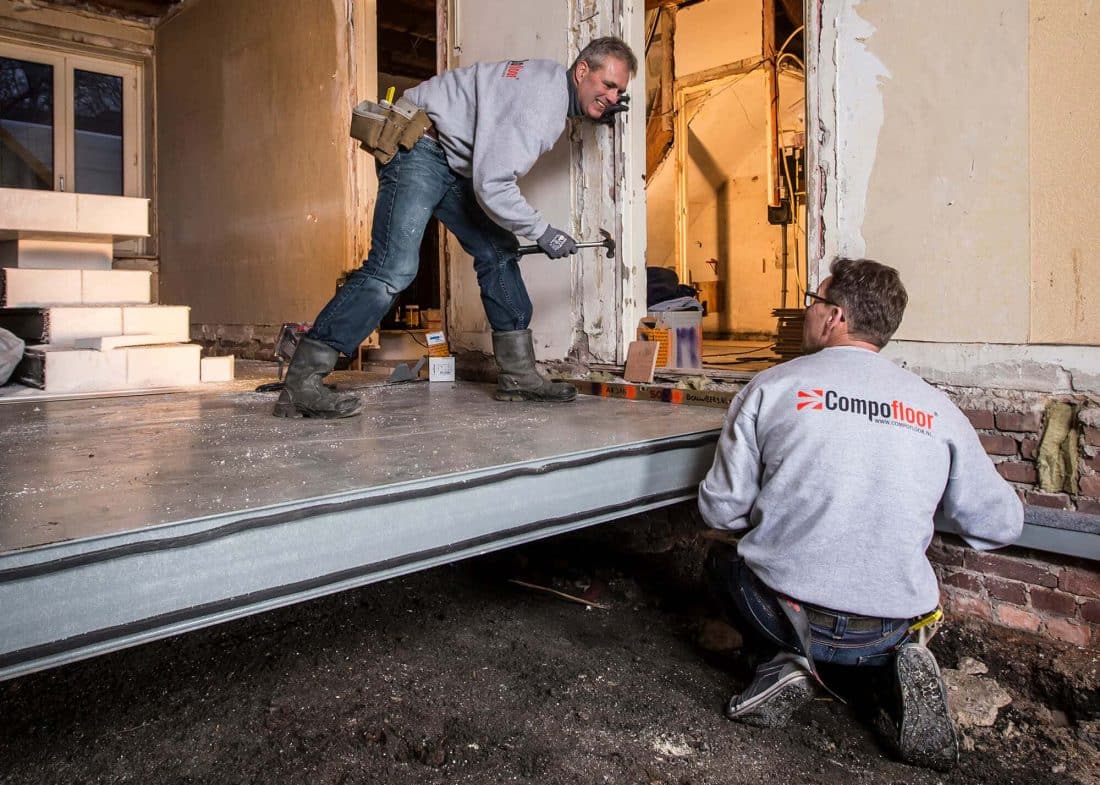 Floor renovation with Compofloor
You can use a new floor We can also renovate your old floor. at a floor renovation we often come across damp and rotten floors. The cause of this problem can be caused by vermin and fungus, among other things. If you want to know whether this is the case, we can have your home inspected in advance by our regular partners. We do this for a fixed amount. We are happy to inform you about the possibilities and conditions.
Renovate your floor!
Have you chosen to have your floor renovated by Compofloor? Then you have made a good choice! To give you some more information about your renovation floor, we would like to explain how we work. First of all, it is important in a floor renovation that the connection of the new floor on the existing building structure is very important. We have developed a special mounting anchor for this. Once the wooden beams have been replaced, the mounting anchor ensures that the new renovation floor does not put additional stress on the existing wall. In addition, the mounting anchor ensures less sound transmission between the new floor and the existing building walls.
We use composite. The composite material guarantees a long life. The elements are prefabricated in our own factory and clicked together as "male – female" during assembly. As a result, the floor is airtight and always applied with the correct clearance for the best end result.
A floor renovation; costs
Before you make a choice, we can imagine that you would like to know what costs a renovation floor entails. Renovation floors can cost a lot of money. To give you an indication, you can Contact record or the product configurator fill in on the site. This way you get a good indication of the costs in advance and you can also request a quote.
Guarantees for a Compofloor renovation floor
Compofloor guarantees optimum airtightness thanks to the unique interlocking connection between the elements of the retrofit floor. Because these are installed in our controlled factory, errors during assembly are eliminated.
Making the floor airtight not only prevents cold air from escaping, but also stops moisture. The indoor climate of the house will improve considerably by applying Compofloor. Read more about our benefits here floor system?
Discover our guarantees
Lightweight: When renovating your home, it is very important not to increase the load on the existing foundation. The weight of Compofloor is comparable to that of a wooden beam construction and can therefore be used without structural recalculation. Due to the low weight of the Compofloor elements, it is easy to assemble within the applicable health and safety guidelines.
Meets all new construction standards: Compofloor was developed and tested in practice in collaboration with Eindhoven University of Technology and IMd Advisory Engineers. According to NEN-EN 1990, the Compofloor meets all requirements for ground floor application.
High insulation value: In many homes, the floor is moderately insulated, so that a lot of heat is lost through the floor. Properly insulating your floor ensures that the floor no longer feels cold and is therefore more comfortable. The temperature difference between insulation and no insulation can be as much as 5 degrees. In addition to less moisture and more heat, you can save considerably on your heating costs. Compofloor is available in different insulation values (RC value). In most cases, the default RC value of 4.38 is sufficient.
Simple and quick assembly: Compofloor is prefabricated in our own factory and guarantees stable quality and fast installation. Because the elements are clicked together, the elements 100% fit.
Zero waste: Compofloor is supplied prefabricated. This means that no machining operations are carried out during the onsite floor assembly. The inconvenience for residents and the neighbourhood is reduced to a minimum. There is also no residual material during assembly so your home is not contaminated with unwanted waste.