High
High Insulation Value

Long
lifespan

100%
airtight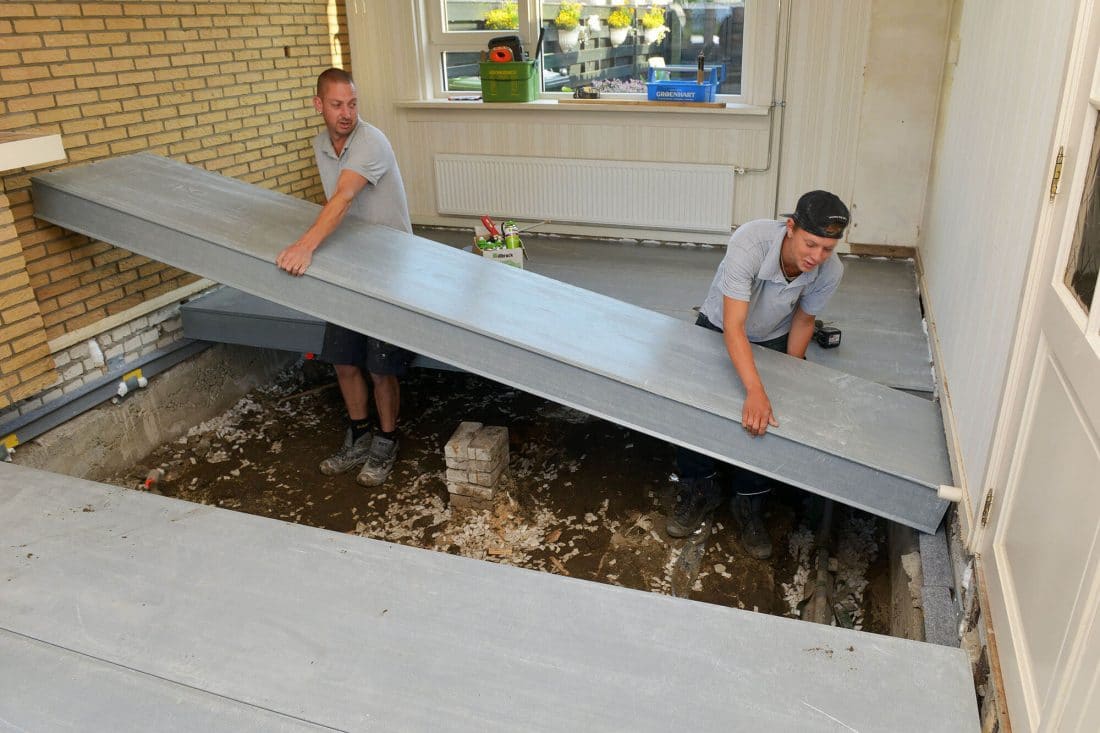 Compofloor floor system
A simple, sustainable & energy-saving floor system with which your uninsulated, draughty or rotten beam of the ground floor can be replaced in one day. We provide this concept throughout the Netherlands with our own team of technicians. Unburdening by caring! 
Compofloor floors have the following properties:
Compofloor is airtight and waterproof!
Put an end to decaying and rusting floors!
The Compofloor system stands for guaranteed quality.
Compofloor is a ground floor construction floor system, made of an innovative composite material.
The floor has been developed to simplify the construction process as much as possible. The Compofloor 100% is prefabricated in our factory, instead of in your home. This means that your choice for Compofloor guarantees minimal nuisance, minimal damage and no waste in your home after installation.
Unique Compofloor support structure
Our Compofloor anchor is characterized by the bearing sleeve at the rear of the anchor. This ensures that even in old walls the forces can be transferred to the building wall in the right ways.
The position of the anchor ensures that the vulnerable spots, of the existing beam openings of the old wooden beam layer, are avoided and the noise transmission to the neighbors is greatly reduced.
The anchor provides sufficient space (4-5 cm) for the water pipes and electrical pipes to enter the crawl space along the wall.
The composite beam that runs over the bearing anchors ensures optimum transfer of forces. This composite beam is always provided with felt pads to prevent cracking and noise pollution
The innovative Compofloor element
The compofloor element is enclosed around with a fiberglass-reinforced polyester, which prevents rusting and rotting of the element.
The hollow element is completely filled with high-quality insulation. The basic insulation value gives a total insulation value of Rc=4.38m2K/W for the entire construction of the floor. The new-build standard for floors (2020) is currently 3.5m2K/W.
The element is airtight and watertight. The airtight interconnection of the elements has been developed together with our regular partner Celdex (airtightness specialist).
Constructive top layer on the Compofloor
In our base floor we have included a further developed OSB4 plate as the top floor. OSB4 has been specially developed for heavy load-bearing structures and suitable for damp conditions
The plates are screwed perpendicular to the elements to ensure optimum coupling between the elements. This results in a collaboration between the elements and therefore a comfortable floor.
Dovetail plate, sand cement floor, anhydrite floor, cement-bonded plating etc ... is considered per situation, but is in principle possible, as long as it is constructively possible. Ask for the possibilities.