Compofloor also active in Rotterdam
Total concepts with assembly guarantee
Compofloor not only supplies floor elements made of composite. Compofloor offers total concepts with assembly guarantee. This is also the case in this house in Rotterdam, where this customer, after researching various systems, decided to invite Compofloor for advice. In this house Compofloor has taken care of the dismantling of the existing floor, the assembly of the substructure and the assembly of the composite elements with the wooden top floor.
Therefore the customer chooses us!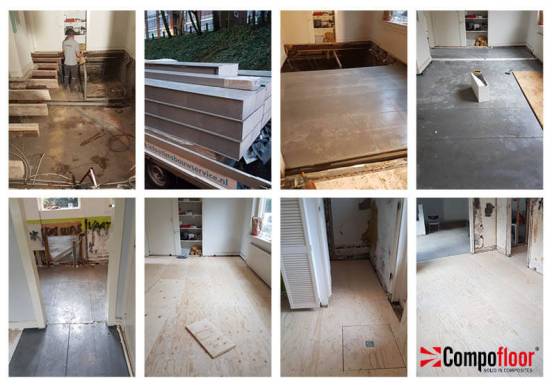 The main arguments of the customer for choosing the Compofloor:
A smooth composite finish to the basement ceiling;
Disassembled and assembled in 1 day;
Airtight finish and good insulation value.
Customer quote after assembly: "Professional staff, fast service and a beautiful solid floor"Compofloor supplies total concepts from dismantling the floor to housing the home!