Compofloor in Stedenbouw Magazine
The Compofloor prefab renovation floor system has been extensively explained in the May edition of the Town Planning Magazine! We are proud to present the Compofloor in the trade journal and website for urban design, architecture and monuments. Read more about the properties of the Compofloor prefab renovation floor system. The high insulation values ensure that you do not have to invest extra in floor insulation in addition to purchasing your floor. This means that you are guaranteed to have warm feet and save on heating costs! The floor elements are easy to assemble. The ground floor will be replaced in just one day, with the inconvenience for residents and the environment to a minimum.
Read the full article here to click.
Looking for more information about our innovative floor system? Then read here further.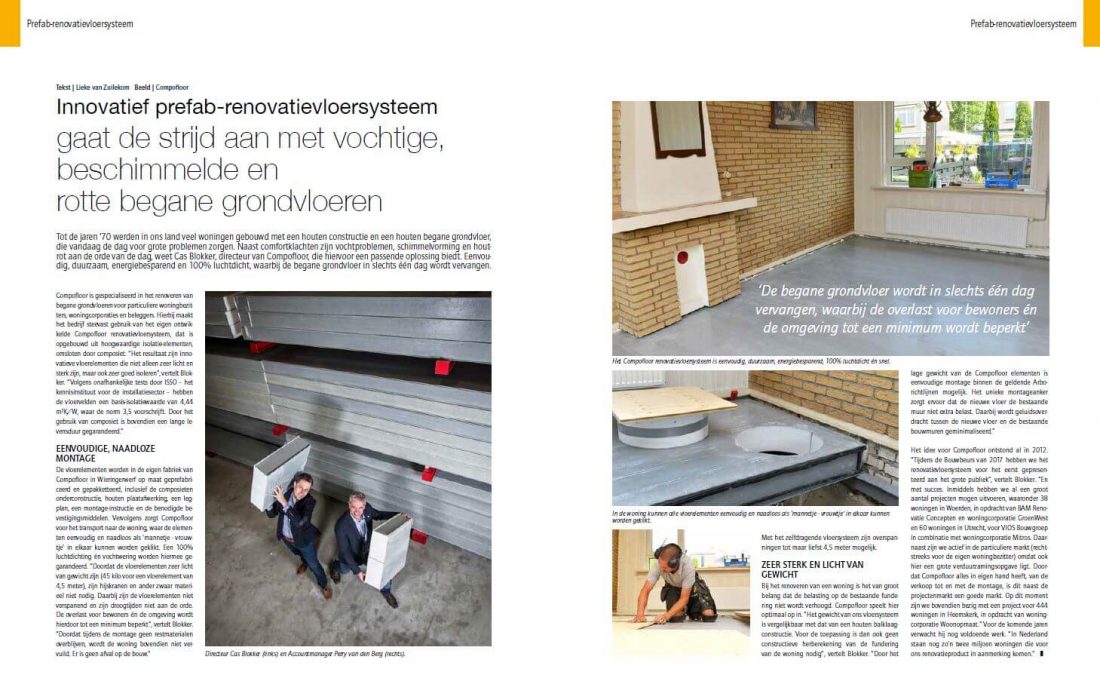 Urbanism Magazine: Zero on the meter project highlighted
In the Schilderskwartier in Woerden, homes are being converted into gas-free Zero-on-the-Meter homes. The Compofloor renovation floor is included in this Pilot project. The floors, delivered in January, were a good choice for the houses in addition to insulation. The weight of the system is almost the same as the replaced wooden floor. In addition, the residents were able to stay in their home during the renovation due to the quick assembly.
Read the full article here to click.
View here the complete trade journal Stedenbouw 748
A short summary of the benefits of Compofloor:
Similar thickness and weight as the wooden beam layer to be renovated;
Easy installation due to a very low weight;
Meets constructively the new construction standards;
High energy efficiency to a reduction of the energy bill by 20%
Thanks to prefabrication, a very fast construction time. Your floor renovated in 1 day without waste.
The QV10 tests have shown that the Compofloor gives the best results on air tightness